Crime Scene Cleanup in Colorado Springs, Security-Widefield, Fountain, Canon City, Florence, CO, and the Surrounding Areas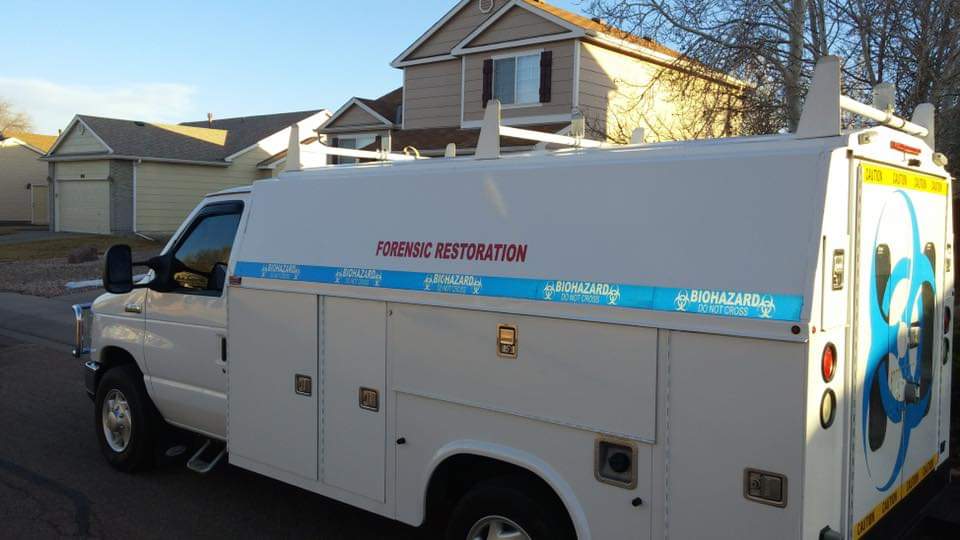 If you've been the victim of a crime, you need crime and trauma scene cleanup professionals you can depend on. Call us at (719) 201-2726.
Crime Scene, Trauma, and Blood Cleanup
Some of the more common scenes include Homicides, Suicides, Assaults, Accidental, and Unattended Death. Since these situations can present special problems for loved ones, friends, neighbors, and businesses, our technicians are trained to decontaminate and remove any blood, tissue or bodily fluids that a violent crime or unfortunate act has left behind. Another scenario we've encountered is that family has discovered that not only do they need crime scene cleaning, but also hoarding cleanup. No matter your situation, we can help. Call us at (719) 201-2726.
We also clean-up and remediate fingerprint dust or tear gas deployed during a police response. It is common that doors and windows are either damaged or broken during a tear gas deployment, so we also provide emergency board up services to secure and protect your property until necessary repairs can be made. Call us at (719) 201-2726.
Do not try to handle a crime scene cleanup on your own!
One tiny drop of blood or other infectious material on items or surfaces can be dangerous.
The term Bloodborne Pathogens means pathogenic microorganisms present in human blood that can cause disease in humans. Call us at (719) 201-2726.
These pathogens include, but are not limited to, hepatitis B virus (HBV) and human immunodeficiency virus (HIV). Our technicians are trained to destroy bloodborne pathogens on surfaces or items to the point where they are no longer capable of transmitting infectious particles and the surface or item is rendered safe for handling, use, or disposal. Read about Bloodborne pathogens at Wikipedia.
Adams, CO
Arapahoe, CO
Canon City, CO
Colorado Springs, CO
Douglas, CO
El Paso, CO
Elbert, CO
Florence, CO
Fountain, CO
Fremont, CO
Huerfano, CO
Jefferson, CO
Pueblo, CO
Security-Widefield, CO
Teller, CO
CrimeTech Services
PO Box 121
Fountain, Colorado 80817
Colorado Springs
Email Address: crimetech@live.com
Phone: (719) 201-2726
We test each site after bio cleanup to ensure a clean and safe environment. We board up windows to prevent unauthorized entry and we have training in law enforcement.
Unfortunate tragedies befall us all, death being the ultimate tragedy. Surviving family members may be distraught, and many times don't know who to call.
We deal directly with your insurance company. In most cases, you pay nothing out of pocket. We also comply with OSHA bloodborne pathogen standards. We're IICRC certified in Odor Control and we're Environmental Protection Agency certified Lead Renovators.
We're available 24 hours a day, 7 days a week. We're local and can respond quickly to your needs.
We have helped hundreds of families and businesses with suicide cleanup, homicide cleanup, decomposition cleanup, hoarding cleanup, tear gas cleanup and so much more.